On Saturday 11th October from 12-1pm, protesters in Halifax will demonstrate against a major trade deal being negotiated between the United States and the EU, which threatens democracy, the environment, and public services including the NHS.
The Halifax protest, in the pedestrianised area outside Marks & Spencer, is one of many demonstrations planned across Europe on 11th October.
Negotiations on the Transatlantic Trade and Investment Partnership (TTIP) between the EU and USA began in July 2013.
If agreed,  the deal will reduce tariffs (taxes on imports and exports), but the major focus is on reducing 'non-tariff barriers to trade'. This is the part that most concerns trade unions and environmental and social justice campaigners, because it's about national laws and regulations that protect the environment, public services and people's rights at work – including the right to a mimimum wage or living wage.
Rachel Johnston from Global Justice Calderdale said:
"The EU-US trade deal is not really about trade. It's about putting big business before ordinary people, and allowing companies to override elected governments. It's a massive corporate power-grab. But there's huge opposition to it, here in the UK, in the US and in other countries in Europe. If enough people stand up against this deal, we can stop it."
The deal, which some protesters call the Big Bad Treaty, would make it easier for multinationals to sue governments over environmental and safety standards – or anything else that threatened to reduce their profits.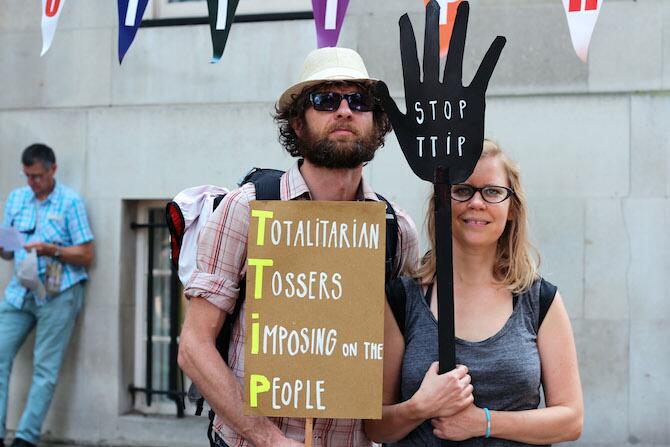 A clause in the Treaty would allow multinational corporations to dispute national laws which they argue reduce their profits, in private tribunals mediated by three 'trade experts'.
If they win, this could result in the companies suing the government about legislation designed to protect public services, or protect employment conditions such as minimum wages, or protect the environment from pollution or degradation..
TTIP could also irreversibly entrench privatisation of public services like the NHS.
If TTIP is agreed, it will also be used to impose damaging trade conditions on countries in the global south.
The evidence shows that TTIP could have a detrimental impact in the UK, and become the new model for future trade agreements worldwide.
Proponents of TTIP say that it will lead to £100 billion in extra growth for the EU and act as "the cheapest stimulus package imaginable".   But a recent study commissioned by the UK government concluded that the investment section of TTIP would have "few or no benefits" for the UK.
Much doubt has been cast on the £100 billion figure itself, with a recent study by academics from Manchester and Ghent universities estimating that the likely effect on growth will be a small fraction of this amount.
Protestors will be explaining the issue to the public and encouraging them to sign a petition or contact their MP or MEP to express their concerns.
For more information contact Rachel Johnston on 0781 659 5739 or email globaljusticecalderdale@gmail.com.