Despite twenty years of insulation, draught proofing, better energy efficiency in fridges, washing machines, light bulbs and so on, provisional 2010 statistics from the Department for Energy and Climate Change show that 2010 residential carbon emissions were eight percent higher than they were twenty years ago, in 1990.
The main reason is, that we use more energy now in our homes and other buildings. Appliances like fridges and tvs have got bigger. So even if they're more energy efficient, they guzzle more energy and produce more carbon emissions. And we own more computers and consumer electronics than we did in 1990, and spend far more time on them too. Domestic electricity use is projected to stay well above 1990 levels at least until 2020. (Source of the table, Energy Saving Trust, The Elephant in the Living Room, p17.)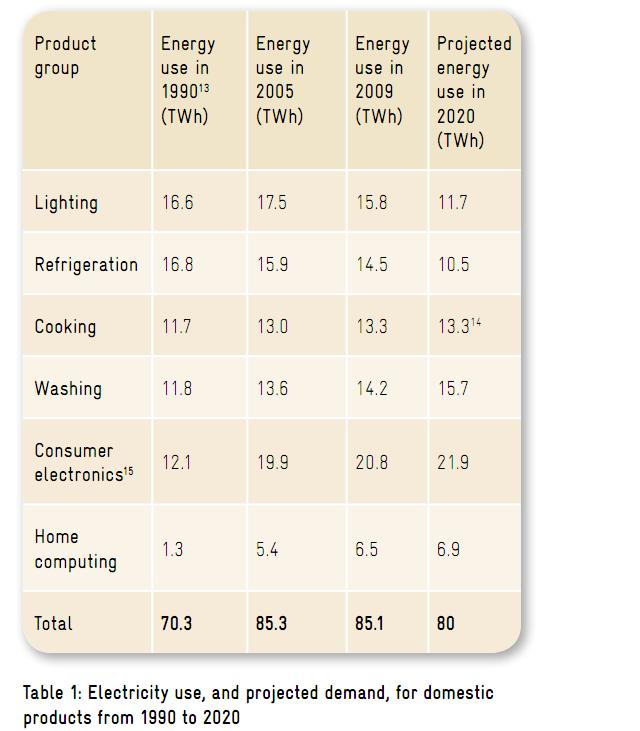 (For people who like footnotes, the footnotes to the table are at the bottom of this webpage.)
However, household electricity use has gone down since 2008, according to recent information from the Office of National Statistics. This may just have something to do with the fact that electricity costs have rocketed while the economy is shrinking and unemployment is rising.
What's the problem?
The government (and others too) like to suggest that the problem is us, the public. We simply don't know how to behave appropriately, in the way we use energy to run our homes (and other buildings). For example, in its 2008-2009 Report on programmes to reduce household energy consumption, the House of Commons Public Accounts Committee sighed, "The hardest task will be to change behaviour through helping people understand what they need to do and helping them to do it."
Personally, I find this patronising and unhelpful. It ignores research that shows that most people already want to live more sustainably, and that we meet real barriers and obstacles in trying to do this – such as:
cost – insulation's expensive, most people can't afford it , but subsidies are only available for some kinds of houses – although until September 2012 Calderdale Council and Yorkshire Energy Services are both offering free, non means-tested loft and cavity wall insulation to all home owners and private tenants
hassle – for example, in houses that can't be insulated through simple cavity wall and loft insulation, there is a major hassle factor in clearing out rooms and attics in order to insulate interior walls
lack of clear information about appliances' energy efficiency – for example, when I was looking for a new washing machine, I wanted to buy the most energy efficient one, but couldn't find a single one with the Energy Saving Trust recommended energy efficiency label; and I only just found out (through researching info for this webpage) that an A rating is no longer particularly good – the most energy efficient washing machines are now A++
So, rather than MPs thinking their hard task is to tell their constituents how we should be behaving, maybe it'd be better if they worked out how they can do their job of effectively regulating the main players in the energy efficiency market – the energy companies, builders and appliance manufacturers and retailers? The Energy Savings Trust says that at the moment, people wanting to reduce their domestic carbon emissions face a "regulatory jungle". So
here are some ideas for clearer, more effective regulation
.(Opens in new page)
If you do want to reduce carbon emissions from your home ( or other building)…
Regardless of the "regulatory jungle", If you want to have a go at reducing carbon emissions from your home (or other building), there are some recommended things to do.
Nearly all residential carbon emissions come from the fossil fuel energy that households use for heating, lighting, cooking and appliances. The rest is from the breakdown of household cleaning products and from aerosols used in the home. So using less energy to run your home or other building will help reduce carbon emissions.
Switching to a renewable energy supplier is probably the single most effective way of reducing carbon emissions from your home or other building.
Keeping more warmth inside your home or other building through insulation, draught proofing and so on,  and insulating your hot water tank and pipes, will allow you to use less energy .
And instead of moaning about the public's hopeless behaviour, maybe the politicians should also get on with the job of legislating to decarbonise the energy industry.
Footnotes from Table
(14 Defra's Market Transformation Programme (MTP) predicts that cooking energy demand will stay roughly the same as present.
15 Electricity consumed by Consumer Electronics was increased in a subsequent revision of MTP figures (17.5 to 19.4TWh in 204)